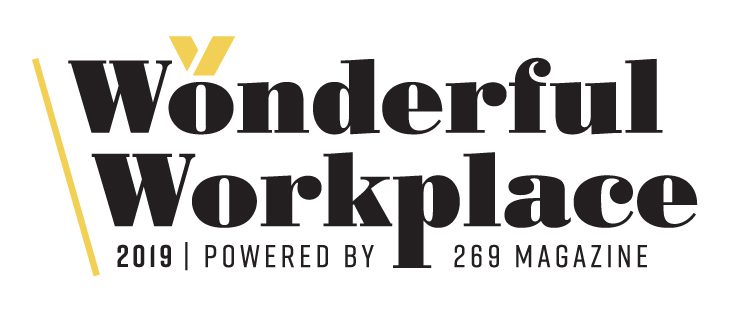 Kalamazoo, MI – Nulty Insurance has been selected by 269 MAGAZINE as one of Southwest Michigan's Wonderful Workplaces. This award celebrates the outstanding efforts made by local businesses in the region to make their organizations great places to work. Winners are recognized in the Holiday 2019 issue of 269 MAGAZINE.
"The year 2019 was an amazing one for Southwest Michigan. The great companies located throughout our region have a lot to do with it being the place of choice to work and live. 269 MAGAZINE is pleased to celebrate the award-winning companies of our third annual Wonderful Workplaces program," said Ron Kitchens, publisher of 269 MAGAZINE. "Please take some time to check out our winners who are creating innovative and collaborative cultures where talented employees are excelling and taking their company to new heights."
"We are honored to be recognized as a Wonderful Workplaces 2019 company in Southwest Michigan. I'm very proud of our team's culture, we will continue to innovate and elevate employee benefits."
– Susan Culhane, Manager of Employee Benefits at Nulty Insurance.
The 2019 Wonderful Workplace Awards, powered by 269 MAGAZINE, honor the hard work local organizations have done to carefully construct their cultures to reflect core values, support thriving communities and allow employees to soar. Here are this year's winners:
| | | |
| --- | --- | --- |
| Company | Location | Industry |
| WSI | Kalamazoo, MI | Staffing and Recruitment Firm |
| Greenleaf Trust | Kalamazoo, MI | Wealth Management Firm |
| Consumers Credit Union | Kalamazoo, MI | Credit Union |
| BKC | Kalamazoo, MI | Certified Public Accountants |
| TowerPinkster | Kalamazoo, MI | Architecture, Engineering and Design Firm |
| Gibson | Kalamazoo, MI | Risk Management Advisors and Consultants |
| AVB | Portage, MI | Construction and Development Firm |
| CTS Telecom | Galesburg, MI | Telecommunications Company |
| First National Bank of Michigan | Kalamazoo, MI | Bank |
| Landscape Forms | Kalamazoo, MI | Designer & Manufacturer of Custom Environments |
| Honor Credit Union | Berrien Springs, MI | Credit Union |
| Tekna | Kalamazoo, MI | Product Development Firm |
| Imperial Beverage | Kalamazoo, MI | Beverage Distributor |
| The Kalamazoo Promise | Kalamazoo, MI | Community Development |
| Nulty Insurance | Kalamazoo, MI | Independent Insurance Agency |
About 269 MAGAZINE
269 MAGAZINE is a regional publication communicating the distinctive brand that is Southwest Michigan. It aims to inspire its readers to become active participants in the world around them and join its mission to make Southwest Michigan the place to enjoy as home, to work, and bring dreams to reality. Learn more at www.269mag.com.
About Nulty Insurance
Nulty Insurance is a full-service independent insurance agency offering a comprehensive suite of insurance solutions including personal insurance, business insurance, and employee benefits to protect you from the unexpected. Southwest Michigan based since 1945 with offices in Kalamazoo, Otsego, Buchanan, and Iron Mountain. Learn more at https://nulty.com.
Media Contact
Adam Burke
Director of Marketing
269-488-0349