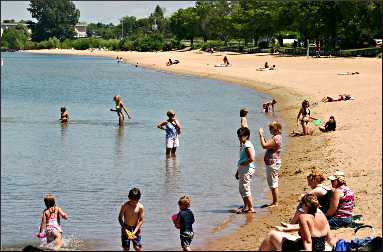 On the Upper Peninsula and Lake Michigan shores, vacation for $100 or less.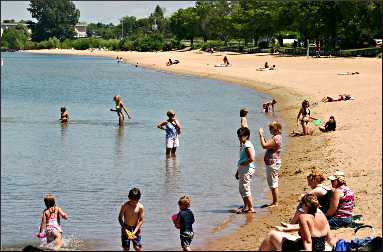 © Beth Gauper
In Ludington, volunteers work as keepers of the Big Sable Lighthouse.
With shoreline on three Great Lakes, Michigan is a popular destination in summer.
But it's still one of the best places to go for a budget beach vacation, thanks to the state parks.
They offer a huge array of cabins and lodges as well as campsites, though you have to reserve far in advance for a place in Lower Michigan parks.
It's much easier to find a last-minute campsite on the Upper Peninsula. Its lakeshores are lined by state, county and municipal parks, and its interior is mostly national forest.
Its relative remoteness — Detroit is closer to Washington, D.C., than Ironwood — not only keeps crowds away but gives the area an old-fashioned atmosphere that many find appealing. You can dine cheaply at pasty shops and mom-and-pop drive-ins, instead of cookie-cutter franchises.
Here are some of the best budget vacations in 2015.
Roots music on the lake
Near Cross Village, where the Legs Inn is a popular stop on the Circle Tour of Lake Michigan,  Blissfest is July 10-12.
This family-friendly folk and roots festival on a farm includes reggae, country, zydeco, jazz and Celtic music on three stages and four workshop areas. There's also a juried arts and crafts fair.
Adult tickets for all three days are $85 if you buy by May 1 and include rustic camping. At the gate, tickets are $150.
The annual Labor Day weekend Marquette Area Blues Fest brings blues musicians to Mattson Lower Harbor ParkSept. 4-6.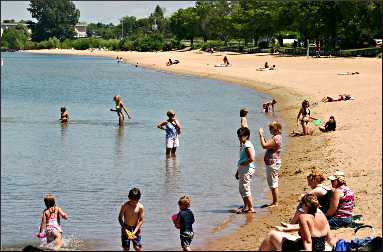 © Beth Gauper
In Traverse City, stay in a dorm room and bask on the beach for free.
Friday's concerts are free. Weekend passes are $45-$50, $30 daily, and daily passes for young adults ages 15 to 23 are $10.
There's no camping on-site, but you could camp at the municipalTourist Park on the north edge of town or stay in one of six rusticcabins $65, in Little Presque Isle state forest, six miles north of town along Lake Superior.
Lake Michigan beach cabins
Michigan state parks have hundreds of mini-cabins, rustic cabins, camper cabins and even yurts, $45-$80. Many are in prime locations on Lake Superior or in Lake Michigan beach parks.
For summer weekends, reserve far in advance. For more, seeMichigan's great lake cabins.
Tubing on a river
On the Paw Paw River in southwest Michigan, Paw Paw River Campgrounds in Watervliet offers all-day tubing for $8. Tent sites are $20-$30.
You can also tube on the Big Sable River in resort-like Ludington State Park, staying either in a tent or one of the park's three mini-cabins.
Family bicycling tours
Michigan has more miles of rail trails than any other state and an active bicycling culture, with many organized bicycle tour.
That's a great way to see the countryside and make a lot of friends, too. Many of the best are fund-raising rides, and if you raise the minimum, you pay only the registration fee.
On June 20-26, the annual PALM, Pedal Across Lower Michigan tour heads from Bridgman to Dowagiac, Three Rivers, Coldwater, Hudson and Dundee to Sterling State Park on Lake Erie.
Cost for six nights is $120, $65 for youths 11-17 and $55 for children 10 and under. It includes camping, baggage transport, entertainment, maps, a T-shirt and a box lunch the last day.
The Michigander tour is July 11-18. It starts with a two-day loop tour that costs $95, including breakfast and dinner.
For more, see Bicycling in western Michigan.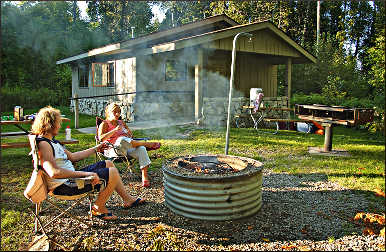 © David Kenyon/DNR
In J.W. Wells State Park, near the Wisconsin border on Lake Michigan, a rustic cabin rents for $50.
This fun beach town fills up in summer, especially during National Cherry Festival.
To stay on budget, reserve a room at Northwestern Michigan College. Double rooms are $35 per person, and single rooms are $55. Family suites are $80 for parents and two children, and use of bicycles is complimentary.
For more, see The good life in Traverse City.
There's also a mini-cabin in busy Traverse City State Park and several mom-and-pop lodgings, including the Sierra Motel in town and Ellis Lake Resort south of town.
Living in a lighthouse
Many lighthouses on Lake Michigan and Lake Superior give free housing to volunteer keepers in return for help with tours and light maintenance.
At Au Sable Light in Pictured Rocks National Lakeshore on the Upper Peninsula and Big Sable Light near Ludington, volunteers stay at former keepers' quarters. Others stay in former state-park manager houses or in cabins.
For more, see Living in a lighthouse.
Yurts on the Upper Peninsula
Porcupine Mountains Wilderness State Park rents four comfortable yurts that sleep four in bunk beds, $60. Two are on Lake Superior's Union Bay. The park also hasrustic cabins that sleep eight, also $60.
For more, see Afoot in the Porkies.
There's also a yurt on Teddy Lake in Craig Lake State Park, west of Marquette.
Stays in a tepee
Like yurts, tepees are made of canvas, and they sleep four in bunk beds or cots. Cost is $30, and they're available in Baraga State Park on Lake Superior's Keweenaw Bay near and Cheboygan State Park on Lake Huron, near Mackinaw City.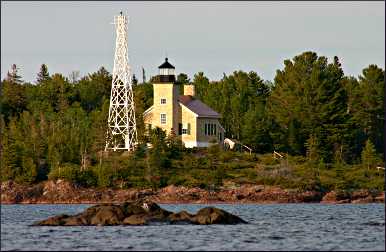 © Torsten Muller
Copper Harbor lighthouse sits at the tip of the Keweenaw Peninsula.
In the winter, Mount Bohemia is a ski hill for experts. In the summer, it offers all-inclusive adventure vacations.
For $95 per person per night, based on double occupancy, you get lodgings in a modern trailside cabin, three meals a day and gear for kayaking, bicycling and fishing.
At the tip of the Keweenaw Peninsula, you can stay inexpensively while waiting for the Isle Royale ferry, sea kayaking or mountain biking on nearby trails.
In Fort Wilkins Historic State Park, stay on the shore of Lake Fanny Hooe in a  two-bedroom cabin, $65.
There are also several mom-and-pop resorts in town, including the Bella Vista Motel on the harbor waterfront andMinnetonka Resort on the main street.
In winter, this Upper Peninsula town is a mecca for skiing and snowmobiling. In the summer, you can hike to thewaterfalls along the Black River and on the North Country National Scenic Trail, or take an elevator to the top of Copper Peak Flying Hill.
Across the street from Wolverine Nordic, Wolverine Village was built as a skiers' retreat, but it's open year-round. Small cabins that sleep up to three go for $65, and large cabins that sleep up to 12 go for $200. There's also a dining hall, laundry area, showers and wax rooms.
Join an outdoors club
Traveling with an outdoors club is one of the best deals you can get. You need to be a member to go on overnight trips, but you don't need to live in the town where the club is based; you can meet the group at the destination.
In the southwest part of the state, the Great Lakes Adventure Club plans biking, hiking, paddling and backpacking trips.
In the northwest part of the state, the Traverse Area Paddle Club plans trips for members, camping or staying in cabins. The Grand Traverse Hiking Club plans  trips on 100 miles of the North Country National Scenic Trail, and the Cherry Capital Cycling Club plans bicycling trips.
For more about traveling with outdoors clubs, see Join the club.
Becoming an Outdoors Woman
Women who want to learn outdoors skills — fishing, hunting, canoeing, backpacking — can join one of the Michigan DNR's inexpensive Becoming an Outdoors Woman workshops.
In 2015, they include the Beyond BOW Backpacking/Fishing Workshop, Aug. 7-9 at Mirror Lake in Porcupine Mountains Wilderness State Park on Lake Superior.
Content Courtesy: Midwest Weekends