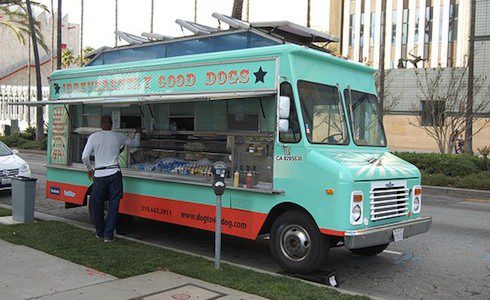 Food trucks, or mobile venues that sell food, are a staple in America's culinary landscape and have become increasingly trendy in recent years. Nearly three million food trucks troll our streets. The history of food trucks in America can be traced all the way back to the late 17th century, when push carts serving food could be found in large cities on the east coast. However, street food has come a long way since then, and according to the Food and Agriculture Organization of the United Nations, street food is eaten by almost 2.5 billion people every day.
Birth of the Modern-Day Food Truck Trend
The modern-day food truck was born in 19th century Texas. After the American Civil War, many people started moving westward. This expansion created a strong demand for beef, particularly in Texas. Cattlemen needed to herd cattle to parts of the country where railroads did not exist. This meant that cattlemen were on the road for months at a time and needed to be fed.
Chuck Wagons
In 1866, a rancher named Charles Goodnight was preparing for a huge cattle drive. He figured out how to cook well while on the road by outfitting a durable US Army surplus wagon with kitchen amenities to create the first kitchen on wheels. He mounted a wooden box to the back and stocked it with shelves and drawers where he could store pots and pans, tableware, utensils, and spices.
A hinged lid opened up that became the cook's workstation and a table to serve food. In the bed of the wagon, he stored dried beans, coffee, cornmeal, salted meat, biscuits, and other food items that were easy to preserve. To the cowboys, chuck was slang for good, hearty food, so these wagons came to be known as chuck wagons.
Lunch Wagons & Mobile Street Carts
Meanwhile, in the cities of New England, lunch wagons became a common sight. The night versions of these mobile food venues, which catered to nighttime workers, were known as night owls. Horse-drawn street carts were also used to prepare and serve meals. Carts that lost their wheels became what we know today as American diners. In the late 1950s, later versions of food carts became mobile canteens that operated on stateside US Army bases.
Food Truck History: From Roach Coach to Gourmet Eatery on Wheels
Mobile food trucks, also known as "roach coaches," have been serving construction sites and other blue-collar work sites for years. Decades ago, immigrants from Mexico brought the taco truck culture to California, where the food truck scene eventually evolved and earned a reputation as being "hip" and "chic."
The Recession's Impact
Gourmet food trucks dramatically increased in popularity during the recession. After the economy tanked, chefs from high-end restaurants were getting laid off left and right.
For experienced chefs without work, starting a food truck seemed like a smart choice because it required little startup funding. Furthermore, the now penny-pinching diners had an appetite for fast, inexpensive food that's of higher quality than your standard chain restaurant fare. All of these factors have led to today's gourmet food truck popularity.
According to the research firm IBISWorld, food trucks and carts grew 8.4% from 2007 to 2012 and now make up a $1 billion industry. The most successful food trucks tend to focus on a specific niche, such as burgers, lobster rolls, falafel or crème brulee.
Social Media Influence
The Kogi Korean BBQ food truck, which sells fusion Korean and Mexican cuisine, is credited as being one of the pioneers in the gourmet food truck movement. Founded in 2008, Kogi originally didn't have a fixed location and announced its location via social media. Kogi's use of Twitter to announce the location of its food truck influenced the heavy use of social media marketing among food trucks.
Nationwide Spread
While food trucks were previously only found in large coastal cities, they now exist in both rural and urban areas across the nation. Cities that are particularly well known for their food trucks are Chicago, Los Angeles, New York, Washington D.C., Houston, Miami, and San Francisco. Nowadays, food trucks are even used to feed people at special events, like birthday parties, weddings, school dances, and public gatherings. Another new trend is food truck festivals, during which several food trucks gather in one place to serve festivalgoers.
Mobile food carts have existed for hundreds of years, so the concept is nothing new, but food truck culture continues to morph. If the long history of food trucks tells us anything, it's that the mobile food movement is here to stay, though its popularity might wax and wane. Quick, gourmet food on a budget will undoubtedly continue to hold appeal as the economy stumbles. If you have got the culinary skills and business acumen, consider starting your own food truck business to take advantage of this growing phenomenon.
Need to insure your Food Truck? Give Nulty Insurance a call @ 888-813-9200.
Content Courtesy: Melissa Silverstein