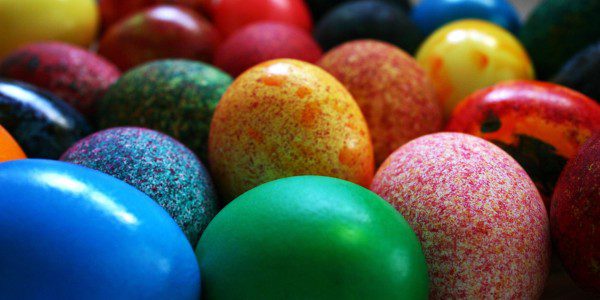 Households spend $131 on Easter each year, $14.7 billion in total.
After Halloween, Easter is the biggest candy consuming holiday. 120 million pounds of candy are bought each year, enough to fill four dump trucks.
90 million chocolate bunnies, 91.4 billion eggs and 700 million peeps are produced each year in the United States.
76% of people eat the ears on chocolate bunnies first.
Americans consume over 16 million jellybeans on Easter, enough to circle the globe three times over.
Half of the states in the United States have banned the practice of dyeing chicks for Easter. However, Florida recently overturned the 45-year-old law of preventing the dyeing of animals, which will come into effect July 1st.
When coloring Easter eggs, it is recommended to use food grade dyes, commercial egg dyes, fruit-drink powders or liquid food coloring.
To help Americans in need, egg farmers across the country are donating more than 11 million eggs to food banks across the nation.
The White House hosts an Easter Egg Roll on the front lawn each year. This tradition was started by President Rutherford B. Hayes in 1878.
Millions of Peeps
Each Easter season, Americans buy more than 700 million Marshmallow Peeps,  shaped like chicks, as well as Marshmallow Bunnies and Marshmallow Eggs, making  them the most popular non-chocolate Easter candy.
As many as 5 million Marshmallow Peeps, bunnies, and other shapes are made  each day in preparation for Easter.
In 1953, it took 27 hours to create a Marshmallow Peep. Today it takes six  minutes.
Yellow Peeps are the most popular, followed by pink, lavender, blue, and  white.
Jellybeans Could Circle the Globe
Americans consume 16 billion jellybeans at Easter, many of them hidden in  baskets. If all the Easter jellybeans were lined end to end, they would circle  the globe nearly three times.
Jellybeans did not become an Easter tradition until the 1930s. They were  probably first made in America by Boston candy maker William Schrafft, who ran  advertisements urging people to send jellybeans to soldiers fighting in the  Civil War.
70% of kids aged 6–11 say they prefer to eat Easter jellybeans one at a  time, while 23% report eating several at once. Boys (29%) were more apt to eat a handful than girls (18%).
Children indicate their favorite Easter jellybean flavors are cherry (20%),  strawberry (12%), grape (10%), lime (7%), and blueberry (6%).
courtesy: infoplease