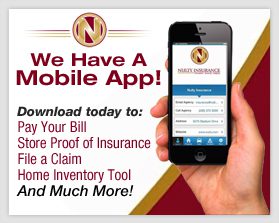 Many homeowners take advantage of the summer weather and do major or minor renovations to their home. Maybe you put in a new kitchen, bathroom or added a mud room? Making sure you notify your agent of these upgrades will help keep your policy up to date in case a loss occurs.
Nulty Insurance has made this process easier by adding our mobile app feature. With our mobile app you can take photos of your home, belongings and receipts. You can upload these straight from the mobile app to your agent where we file the photos in your account.
If a loss were ever to occur many forget how many spices they have had in the cabinet or other items that would need to be accounted for.
To download our free app click below: