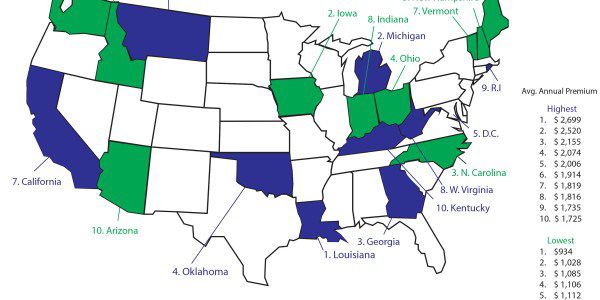 Louisiana is No. 1 — but not in a desirable way.  It has the highest average car insurance rates in the nation, followed by Michigan and Georgia, according to Insure.com's annual state-by-state comparison of insurance premiums.
Maine enjoys the least expensive car insurance rates, followed by Iowa.


Louisiana and Michigan have held one of the top three positions since Insure.com began its annual survey in 2010. Georgia rose from the No. 10 position in 2012 to this year's third-place spot, bumping Oklahoma to fourth place.
Maine and Iowa held the bottom two spots on the list last year and have been in the bottom 10 since 2010.
A variety of factors make car insurance rates more painful in some states than others — the number of insurers competing for business, driving conditions, the portion of drivers who are uninsured, and the way state insurance systems are set up.
No. 1: Louisiana
Compared to the rest of the country, Louisiana drivers who get in accidents file more bodily injury claims than drivers in other states.
Louisiana also has a high rate of comprehensive claims, which include damage from natural disasters, says R. Parke Ellis, president-elect of the Independent Insurance Agents & Brokers of Louisiana and chairman of Gillis, Ellis & Baker Inc. in New Orleans.
In addition, a greater portion of people filing insurance claims hire attorneys, says Barry Blumberg, president of the Independent Insurance Agents & Brokers of Louisiana and president and CEO of Blumberg and Associates Inc. in Baton Rouge.
Louisiana's judicial system may also be to blame for high rates. Lawsuits involving claims under $50,000 go before judges instead of juries. Some observers say elected judges are more likely to side with local people than insurance companies.
No. 2: Michigan
Michigan is the only state in the country that guarantees unlimited, lifetime personal injury protection (PIP) benefits for treatment of injuries from a car accident.
Other states don't even come close, observes Jeremy MacDonald, vice president of the Michigan Association of Professional Insurance Agents and president of the Mid-Michigan Agency Inc. in Alma. Florida caps PIP benefits at $10,000, for instance, and New York at $50,000.
MacDonald says an instructor at an insurance course for agents once quipped, "'I tell my wife if I have a heart attack, put me in the car and roll it into a tree.'"
Car insurance customers must buy PIP as part of the policy. PIP pays the medical bills for car accident injuries of the policyholder, family members in the household and any passengers who do not have PIP coverage. The injured person's car insurance company pays out the first $500,000 for medical treatment. Any expenses above that threshold are reimbursed by a state-created nonprofit called the Michigan Catastrophic Claims Association.
A portion of everyone's premium includes an assessment from the association, which this year is $175 per vehicle.
Last year a bill to set limits on PIP benefits failed, but legislators are expected to introduce another reform bill backed by Gov. Rick Snyder in March.
In addition to setting a cap on benefits, reform proponents have called for capping payments for medical services. Reimbursement costs for PIP claims are about three times the reimbursement costs for workers' compensation and four times the reimbursement costs for Medicare — for the same procedures, according to the Insurance Institute of Michigan. The average PIP medical claim more than tripled to $44,138 in 2012 from $13,617 in 2000, the institute says.
Still, efforts to change the system face a tough fight from hospitals, patient advocates and some elected officials, such as Oakland County Executive L. Brooks Patterson, who was critically injured in a car crash in August. In an open letter to the public, Patterson vigorously defended the state's current auto insurance system.
The political fight is often portrayed as the "big, bad insurance companies" being stingy versus accident victims who rely on the money for survival, says Jason Verlinde, treasurer of the Michigan Association of Professional Insurance Agents and vice president of the Verlinde Insurance Agency in Richmond.
"But the people who are getting lost in the story are the ones who can't afford it," he says.
He tells of a single mom who recently scraped enough money together to buy a used car and came to see him to buy auto insurance.
"It was a great day for her because she was finally able to get transportation to change her life," he says. "But the premium was $2,600 a year for the bare-minimum coverage. That includes no collision or comprehensive, and she can't afford it."
No. 3: Georgia
Victor Hamby, president of the Professional Insurance Agents of Georgia, says the market in the Atlanta metropolitan area was "ultra competitive" from about 2003 to 2010.
Then things took a turn.
"The carriers underpriced the market, and claims caught up with them," he says. "We're seeing carriers increasing rates on auto insurance for the first time in seven or eight years, anywhere from 2 to 12 percent. We're seeing some hardening in the market."
But plenty of companies are still competing in Georgia, says Hamby, personal lines and bonds manager at Hamby & Aloisio Inc. in Atlanta.
"And that's a great thing," he says. "The regulatory environment is conducive to insurance companies writing car insurance. We're working hard to keep the marketplace in Georgia vibrant and competitive."
Donna Marcus-Doughten, president-elect of the Professional Insurance Agents of Georgia, agrees that Georgia has a healthy, competitive market. But she says traffic is terrible in the Atlanta area, which may lead to more fender-benders.
"It's bumper to bumper across six lanes," says Marcus-Doughten, vice president of Phoenix Associates in Marietta.
No. 50: Iowa
Iowa's rural sensibilities help keep rates down in the Hawkeye State, insurance agents say. The population of Des Moines, the largest city, is about 200,000.
"I don't think we're as rushed to do things," observes Paul Pohlson, president of the Independent Insurance Agents of Iowa and vice president of Ramsey Weeks in Grinnell.
"I look at other cities I travel to, and I just think we have fewer accidents because people seem to slow down here. Maybe we don't have as much road rage."
In small towns like Grinnell, where Pohlson works, "I'm probably going to know the person that I hit or who hits me in an accident."
People aren't quick to sue one another over car accidents in Iowa, and the culture is fairly conservative, says Terry McDonald, president-elect of the Independent Insurance Agents of Iowa and executive vice president of A.W. Welt Ambrisco Insurance Inc. in Iowa City.
"It's not as easy to win over a jury as it can be in another state," he says.
No. 51: Maine
"I do think Maine being so rural is a factor in low rates," says Sheila Sawyer, president of the Maine Insurance Agents Association and an agent with Carl M.P. Larrabee Agency Inc. in Wiscasset. "We just don't have much city driving, and people learn to drive in all types of weather."
Maine's tight restrictions on young drivers and its graduated licensing program for new drivers also likely help keep accidents (and rates) down, Sawyer says.
Teens have to complete a state-approved driver education course before they can apply for a learner's permit, and they go through a three-step graduated licensing system which lets them get driving experience under lower-risk conditions. A driver under 18 with an "intermediate license," for instance, can't carry passengers other than immediate family members or drive between midnight and 5 a.m.
Survey methodology
Insure.com commissioned Quadrant Information Services to provide auto insurance rates for more than 750 car models from six large carriers (Allstate, Farmers, GEICO, Nationwide, Progressive and State Farm) in 10 ZIP codes per state. Rates were compiled in December 2012.
We then averaged rates for all vehicles in each state to create the rankings. Rates are for comparative purposes within the same model year.
Rates are based on insurance for a single, 40-year-old male who commutes 12 miles to work each day, with policy limits of 100/300/50 ($100,000 for injury liability for one person, $300,000 for all injuries and $50,000 for property damage in an accident) and a $500 deductible on collision and comprehensive coverage. The hypothetical driver has a clean record and good credit. The rate includes uninsured motorist coverage. Actual rates will depend on individual driver factors.
Courtesy: Insure.com