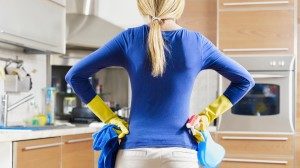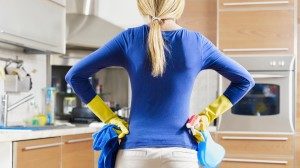 Spring has officially arrived even if the weather doesn't feel like it today. Soon enough the flowers will bloom, birds will be chirping and the days will grow longer. Now is the time to forget about the long winter and prepare your house for the spring and summer months. These spring cleaning tips will get your house into shape in no time.
1. Top to Bottom Purge – Spring cleaning should include a full evaluation of all the things you accumulate in your home each year. Start with the attic and work your way through bedrooms, bathrooms and storage areas to clear out those items you just don't need anymore. Depending on how much you have to purge, you may want to consider renting a dumpster or scheduling a bulk pick up rather trying to stuff it in the trash or take it to the dump.
2. A Better View – Take a look at your windows. Have you cleaned them lately? Improve your view of the spring flowers by cleaning your windows both in and outside, wiping away the dust and grime of the winter months. This is also a good time to wash your curtains, which collect more dust than you probably realize.
3. Clean-Up the Walls  – Brighten all the rooms in your house by scrubbing down the walls. Walls collect grime and dirt from our fingers and from indoor pollutants. Washing walls, light switches, outlet covers and doorknobs improves the look of a room, gets rid of germs and helps your paint last longer.
4. Baseboard Buffing – The baseboards in a home take a lot of abuse. Scuff marks, dripped coffee and dust make them look dingy and dirty. Grab a bucket and sponge and get on your knees to scrub and polish the baseboards. The difference between clean and dirty baseboards will surprise you.
5. Couch Potato – We get used to certain things if we ignore them long enough. Our favorite spring cleaning tips draw attention to those areas of your home you tend to overlook. You know, like that soda stain on the couch. Grab the upholstery cleaner and spruce up the cushions on chairs and sofas to make them look like new again. This is a good time to vacuum out all those potato chip crumbs and popcorn kernels from movie nights as well.
6. Steam Clean  -Your carpet fibers could use a little help this time of year as well after a winter of tracking mud and rain inside. Cleaning your carpets can reduce indoor allergens, improve the look of your carpets and help your carpets last longer.
7. Heading Outdoors – It's not just the inside that needs attention. Spring is the perfect time to work on your garden as well. Prune trees and bushes, rake up dead leaves and pull up weeds now before they flower. You can use the same dumpster or bulk pick up you rented for your purge for yard debris too.
With these spring cleaning tips, your house, both inside and out, will look refreshed and renewed.
Courtesy: RWS