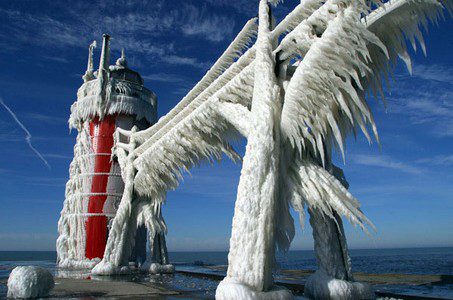 With frigid temperatures expected to hit Southwest Michigan Monday night, and some areas likely to feel wind chills from 5 degrees below zero to 15 below and possibly colder, here are a few tips on how to deal with the weather.
Prevent frostbite: At wind chills of 15 to 30 below, exposed skin can get frostbitten in minutes and hypothermia can quickly set in.
Mittens are better than gloves, layers of dry clothing are best, and anyone who gets wet needs to get inside, doctors warn. Avoid being outdoors, if possible, or make sure all body parts are well-covered.
Check your car battery: If you don't have access to a garage, check your vehicle's battery before the cold arrives, experts say. Batteries that are more than three years old or that are on the verge of going dead often can't be jump-started once they have been exposed to temperatures below zero for an extended period.
Turn down the thermostat: The utility company is telling customers to keep their indoor temperatures relatively low, which can help prevent widespread power outages.
If you're comfortable with your thermostat at 68 degrees and using a blanket, you should do that. Turn your thermostat down and save money.
Take care with supplemental heating devices: Those whose heating systems are inadequate, or who can't afford to pay utility bills, sometimes make dangerous decisions on how to stay warm, turning to space heaters, stoves, ovens, candles and even kerosene or propane heaters meant for the outdoors.
The U.S. Fire Administration says more than 50,000 residential fires annually are caused by heating, resulting in about 150 deaths. January is the peak month for such problems. Improper use of heating devices is also a common cause of carbon monoxide poisoning and deaths.
Protect your pipes: With temperatures expected to drop into the single digits, don't forget to protect against frozen pipes. Expanding water in pipes can cause them to break. Pipes that are most likely to freeze are those exposed to severe cold, such as swimming pool lines and water sprinkler lines that are in basements, crawl spaces, garages or attics.