Fit people may think walking is "too easy" to keep them fit. Overweight people may wonder if they can lose weight by walking. Older people and those with medical conditions, such as osteoporosis or heart disease, may wonder if walking is safe.
In fact, walking works for people of all ages, fitness levels, weights and health conditions.
Appreciate the benefits
Walking is easy because you can do it almost anywhere and at any time. It also offers a range of health benefits. Walking as a form of exercise:
Gives you energy and improves your stamina for everyday activities
Improves your mood and reduces stress
Strengthens bones
Helps you relax and sleep better
Reduces your risk for high blood pressure, high cholesterol, heart disease, stroke and type 2 diabetes
Tones your muscles, including your heart
Increases the number of calories you burn, helping you lose and keep off weight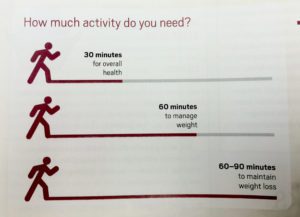 Get started
Get your health care provider's go-ahead before you start to walk if you've been sedentary for some time, have dizzy spells, are a smoker, are overweight, or have heart disease, high blood pressure, diabetes, asthma or another chronic condition.
Once you 're ready to go, follow these tips:
Choose a safe place to walk. Find a partner or group of people to walk with.
Wear walking shoes with good arch support and thick, flexible soles.
Wear clothes that are right for the season. Try clothing made from wicking material in warm months, and dress in layers in cold weather.
Begin your walk by warming up to increase your heart rate. Do this by walking at a normal pace for  five minutes. After you've warmed up, walk briskly for 30 to 60 minutes. When your brisk walk is done, cool down by walking slowly for five minutes. If you need to, break your walk up into three 10-minute walks over the course of the day.
After you walk, gently stretch your legs and back while your muscles are warm to prevent stiffness and increase flexibility.
Try to walk at least three times a week.
Keeping up your stride
If you find it difficult to fit long walks into your daily schedule, remember that short walking breaks also can have health benefits. Here's some advice to help make walking a "shoe-in" for your schedule.
Keep a pair of walking shoes in your car so you can squeeze in a walk while running errands or during your lunch break.
Take the family dog on a walk so you both get exercise.
Combine social and exercise time. Instead of meeting friends for lunch, meet at a park and go walking. Or join a walking club.
For best results, note these guidelines for good walking form:
Maintain good posture- keep your shoulders back and over your hips (no leaning), and try not to tilt your head forward or back.
Breathe deeply, at a steady rhythm.
Keep your hips even, and point your knees and feet forward.
Walk with a full stride, landing on your heel, then rolling your weight toward your toe.
Bend your arms and swing them in pace with your legs.
Stick with a routine
Now that you've started walking, you'll want to get the most out of your exercise. Using a walking log can keep you motivated and also give you a way to track your improvement.